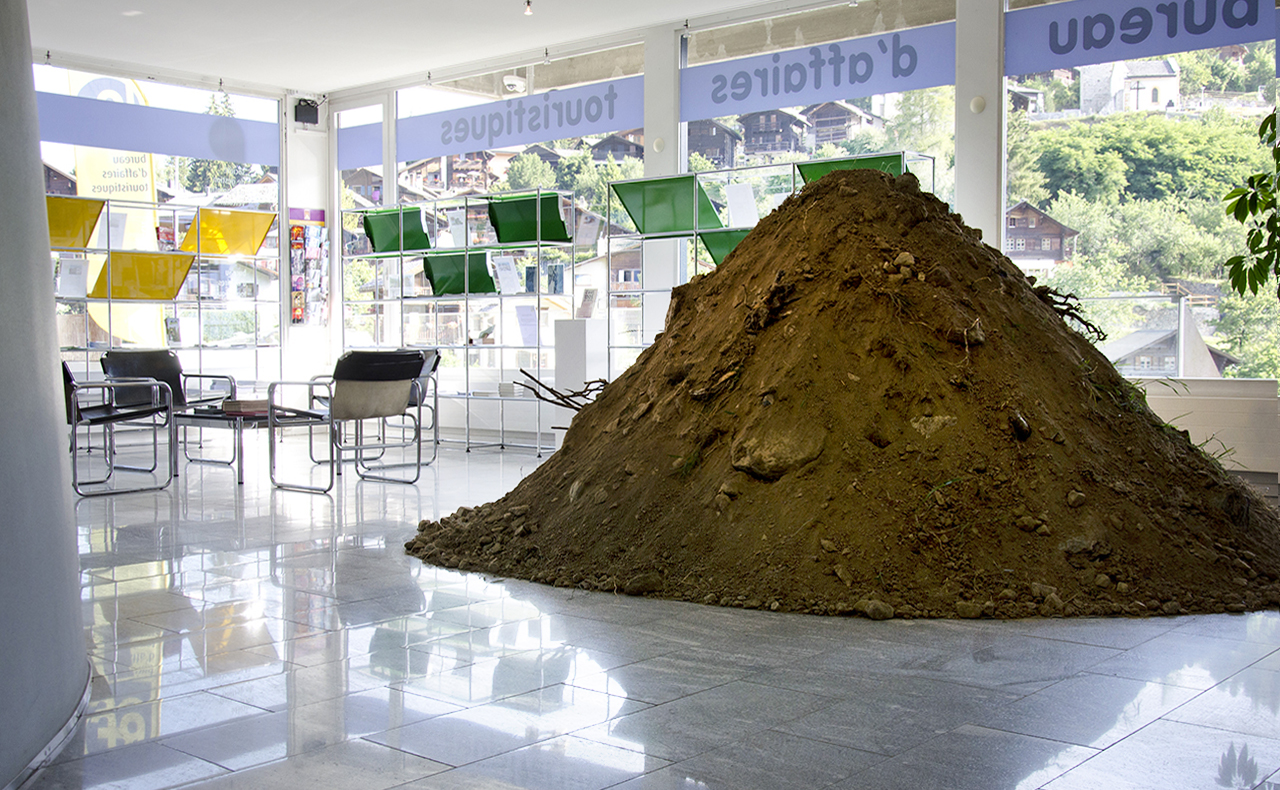 An artistic intervention with a heap of earth and a video-projection, in a tourist office, Summer 2014.
Eine Intervention mit Erdhaufen und einer Video-loop Projektion, in einem Tourismusbüro im Sommer 2014.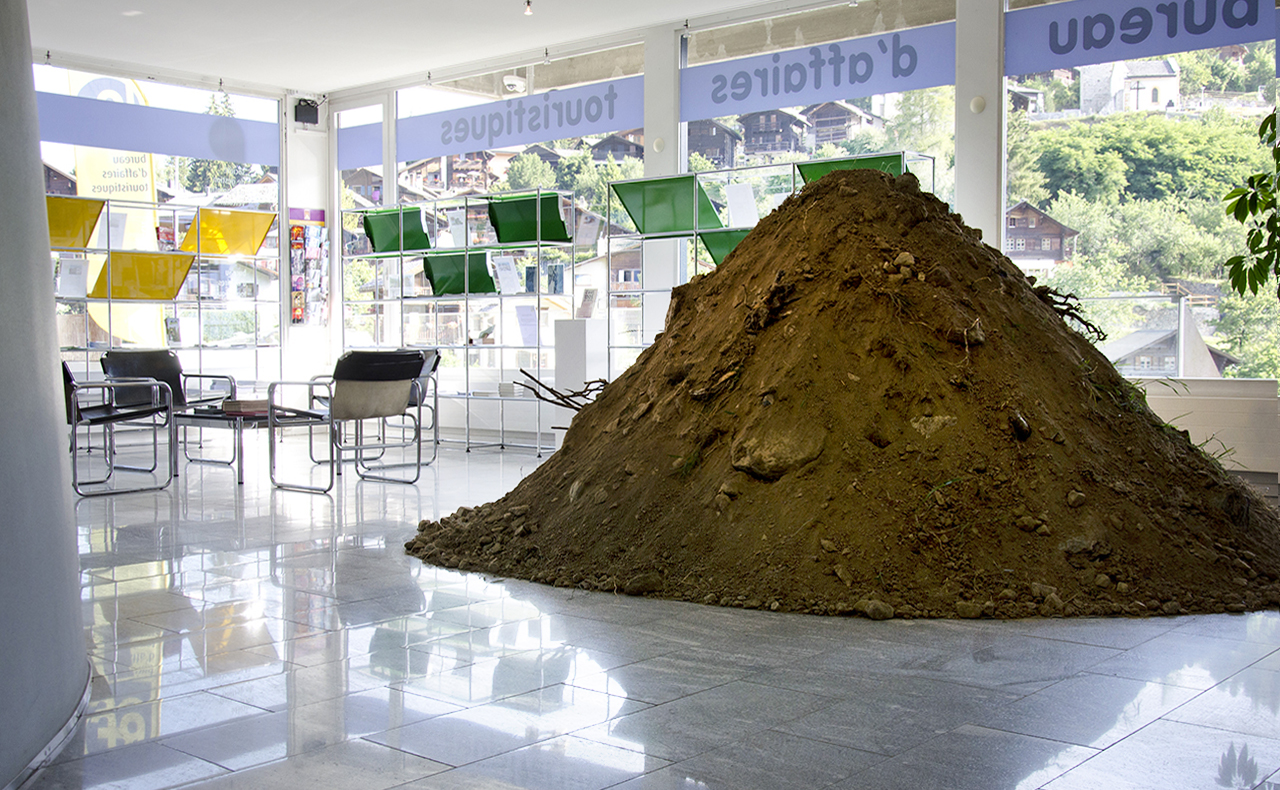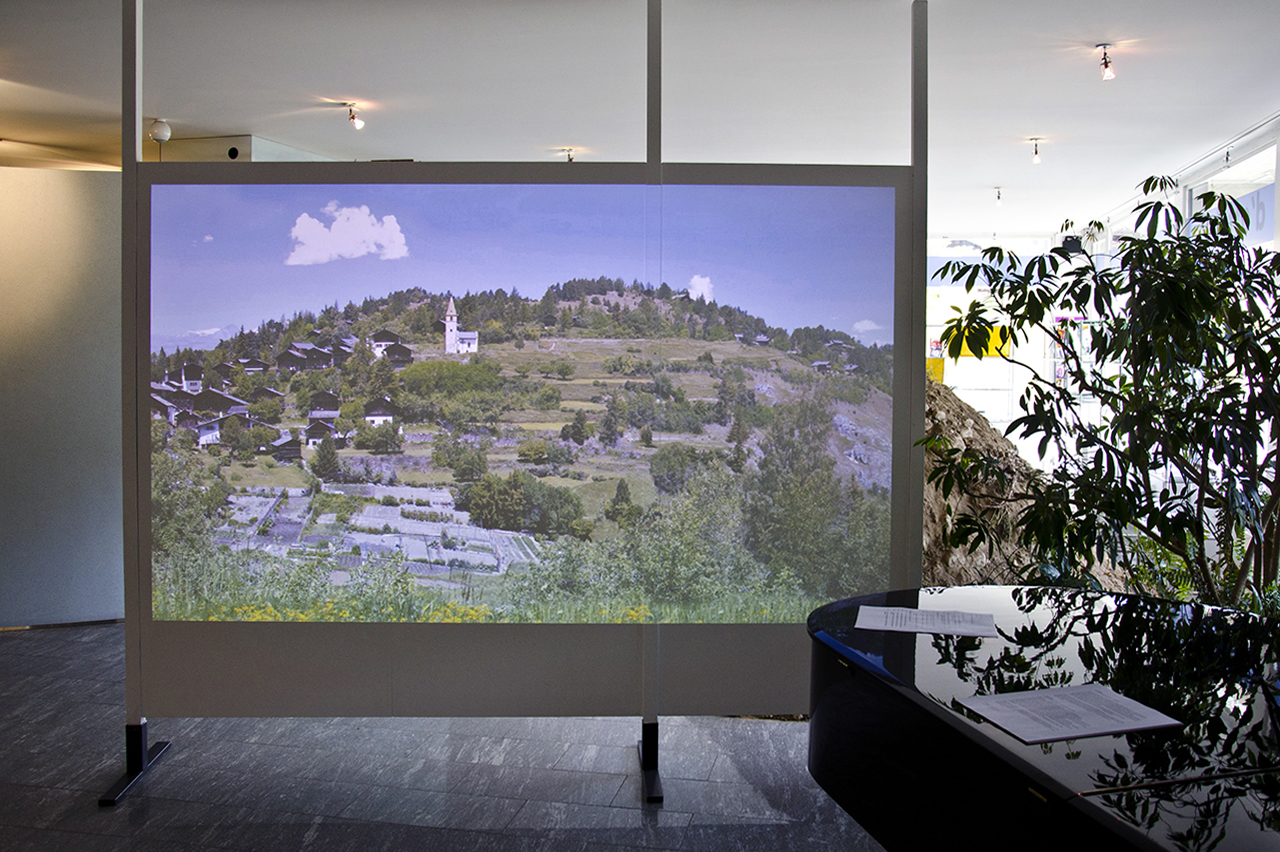 The video «Vercorin dé-montage» is part of «idyll», an artistic intervention in a tourist office in Vercorin, a Swiss mountain village. July to September 2014.
The intervention implies a video projection and a heap of earth. The tourist office is located at the entry oft the village. From there one can see the village, layed on a hill.
Beside the typical old part with its lovely church, you can see the extension of newly constructed "Chalets", added to the landscape in the course of the last 60 Years. Most oft them are administrated by the tourist office, where the art intervention happened. «L'idylle» is devoted to this situation and intervenes with it.
The video shows the view on the village. Little by little, one house after the other disappeares. After a while only the old part oft the village with the church remaines. It seams to be its ideal condition, but, little by little, the erased houses reappear. Eventually the village is in its previous condition again and so on.
The heap of earth, 180 x 300cm, is located in the office lobby. The earth comes from the hill which is a subject of the video and you also can see it, if you look out the window.
There are also post cards, photos and screen savers to sell. The photos and post cards show the village in its "ideal" condition.
---
«Vercorin dé-montage», Video-loop, 5:00 min, in einem Tourismusbüro.
Das Bureau d`Affaires Touristiques (BAT), das sich am Eingang des Dorfes befindet, ist auch der inhaltliche Ausgangspunkt der Installation.
Von dem Büro aus hat man eine gute Sicht auf  den Hügel, auf dem sich der Hauptteil des Dorfkerns mit seinem charakteristischen Kirchturm befindet. Darüber hinaus kann man auch die Ausdehnung der hinzugekommenen Chalets, die hauptsächlich touristisch genutzt werden, überblicken. Meine Arbeit widmet sich dieser Aussicht.
Der Erdhaufen im Foyer des Büros stammt von jenem gegenüber liegenden Hügel, der auch auf dem Video zu sehen ist.