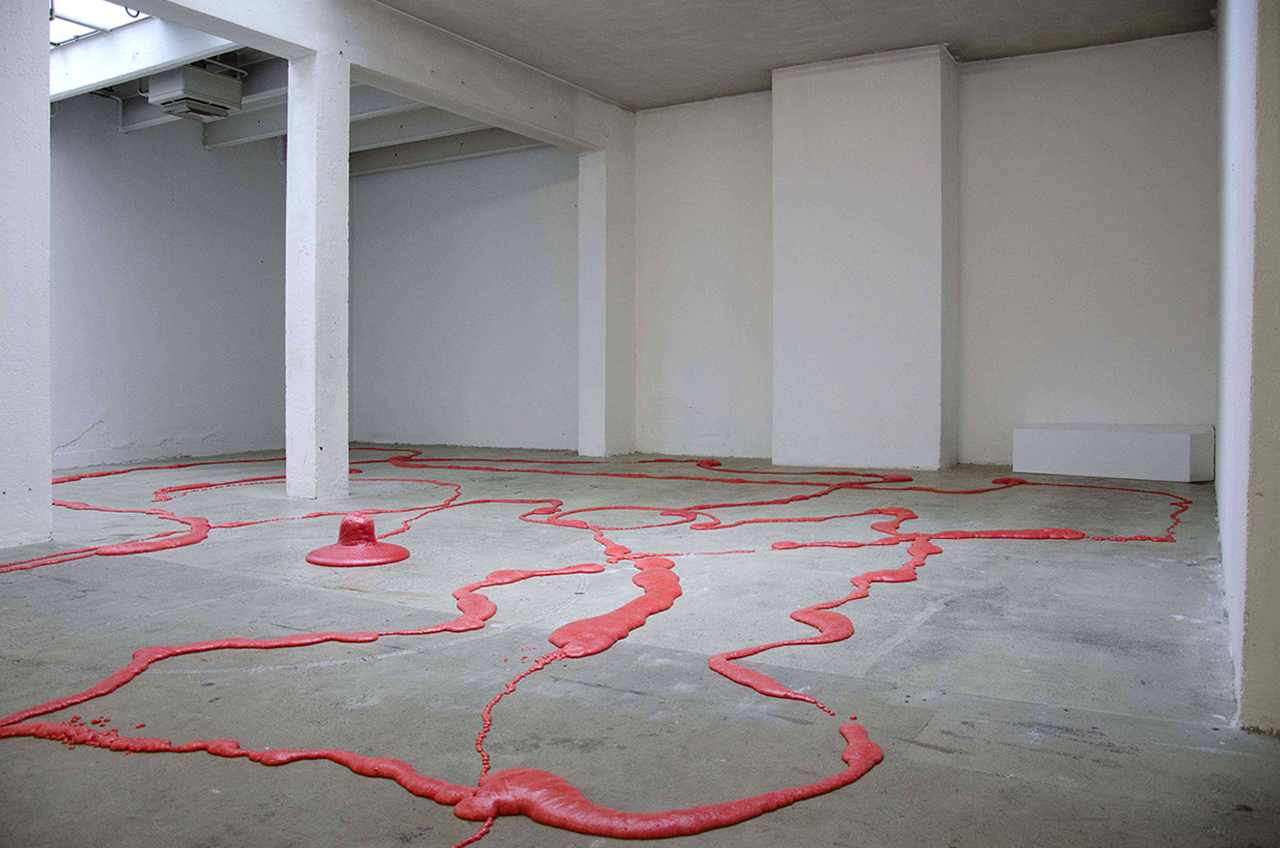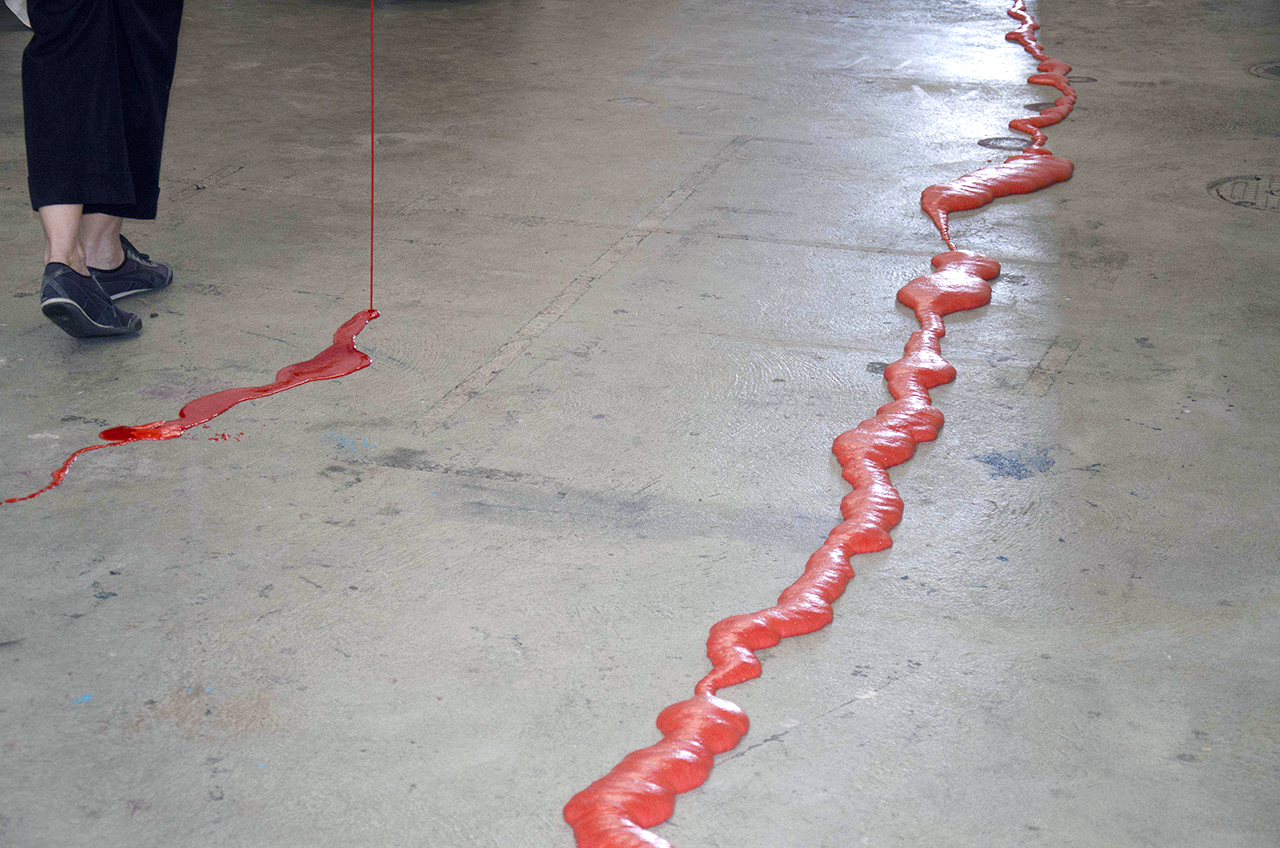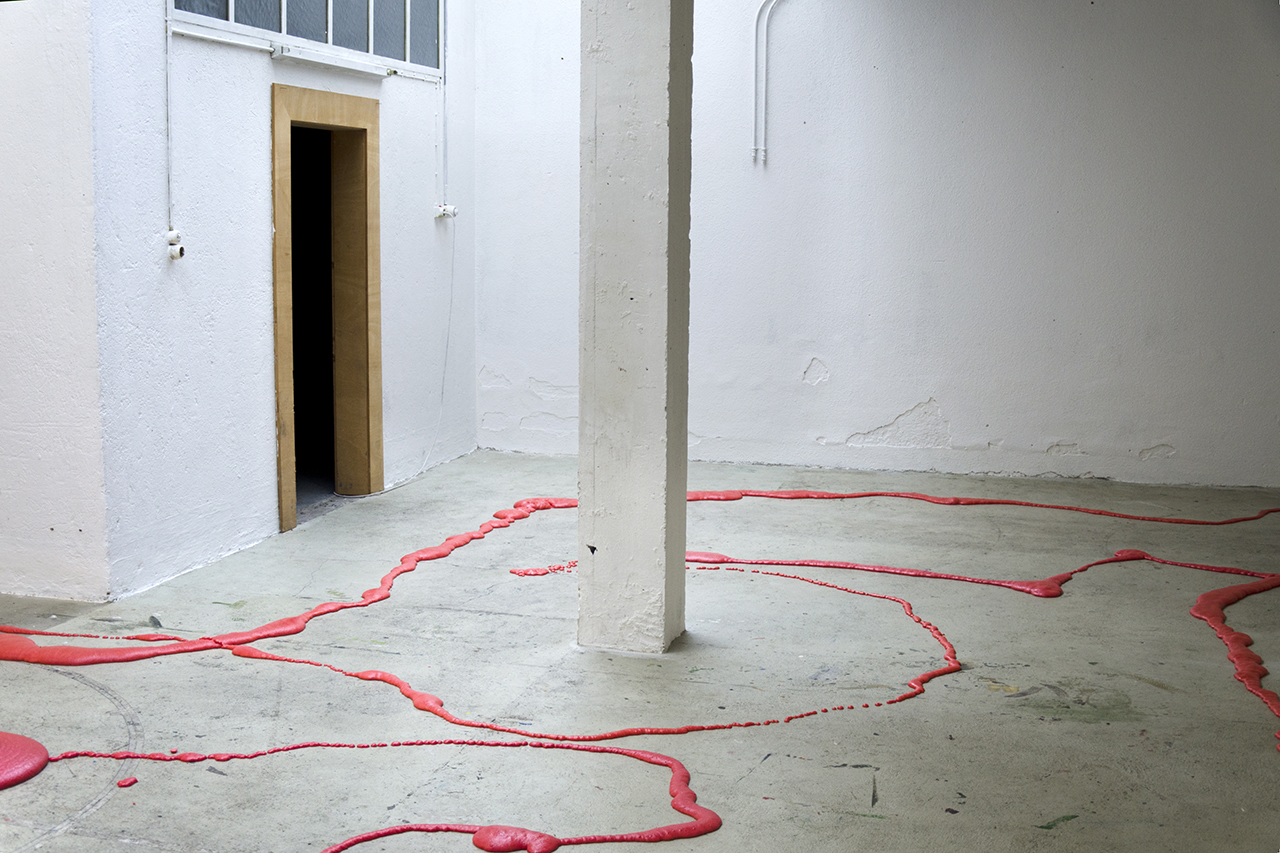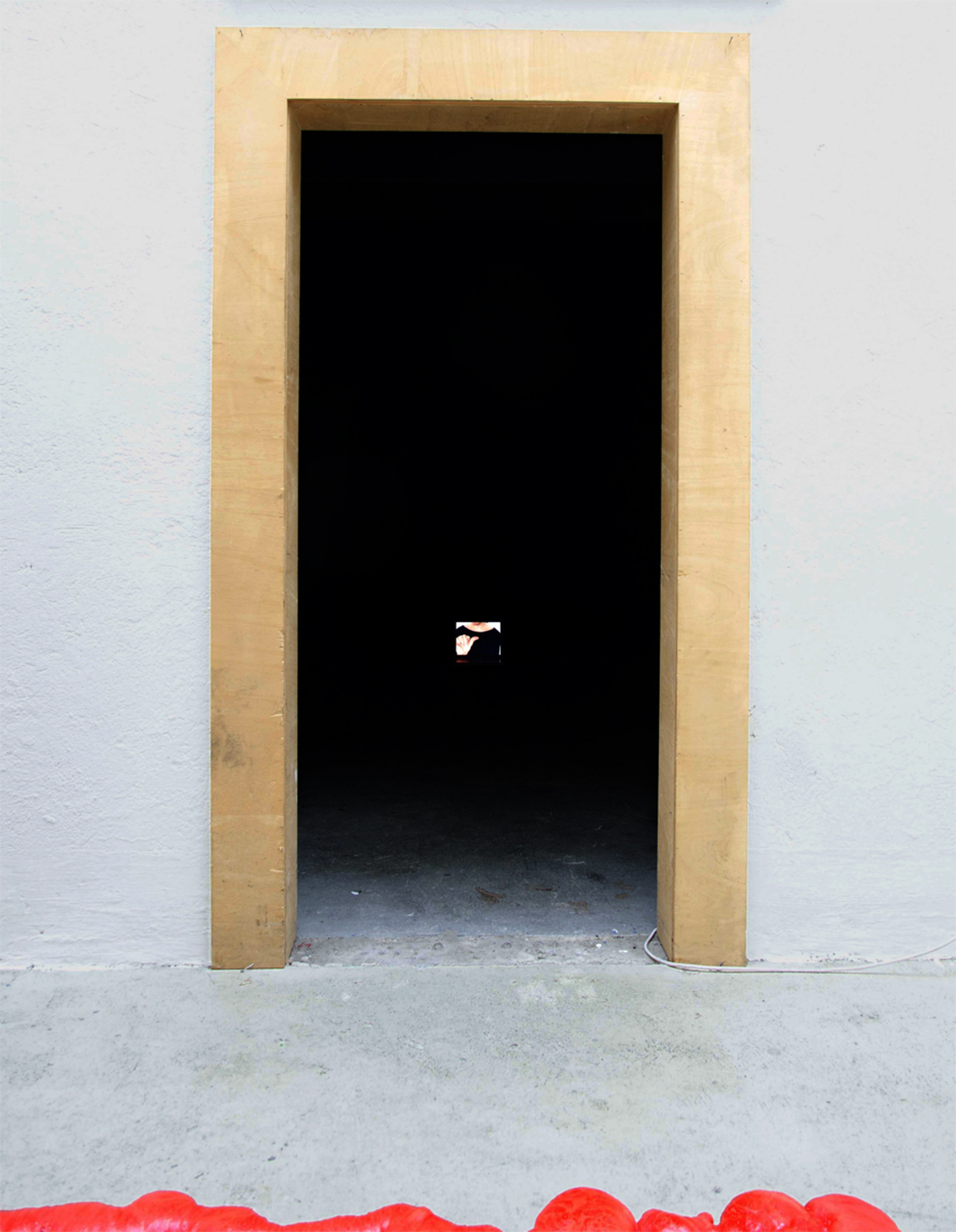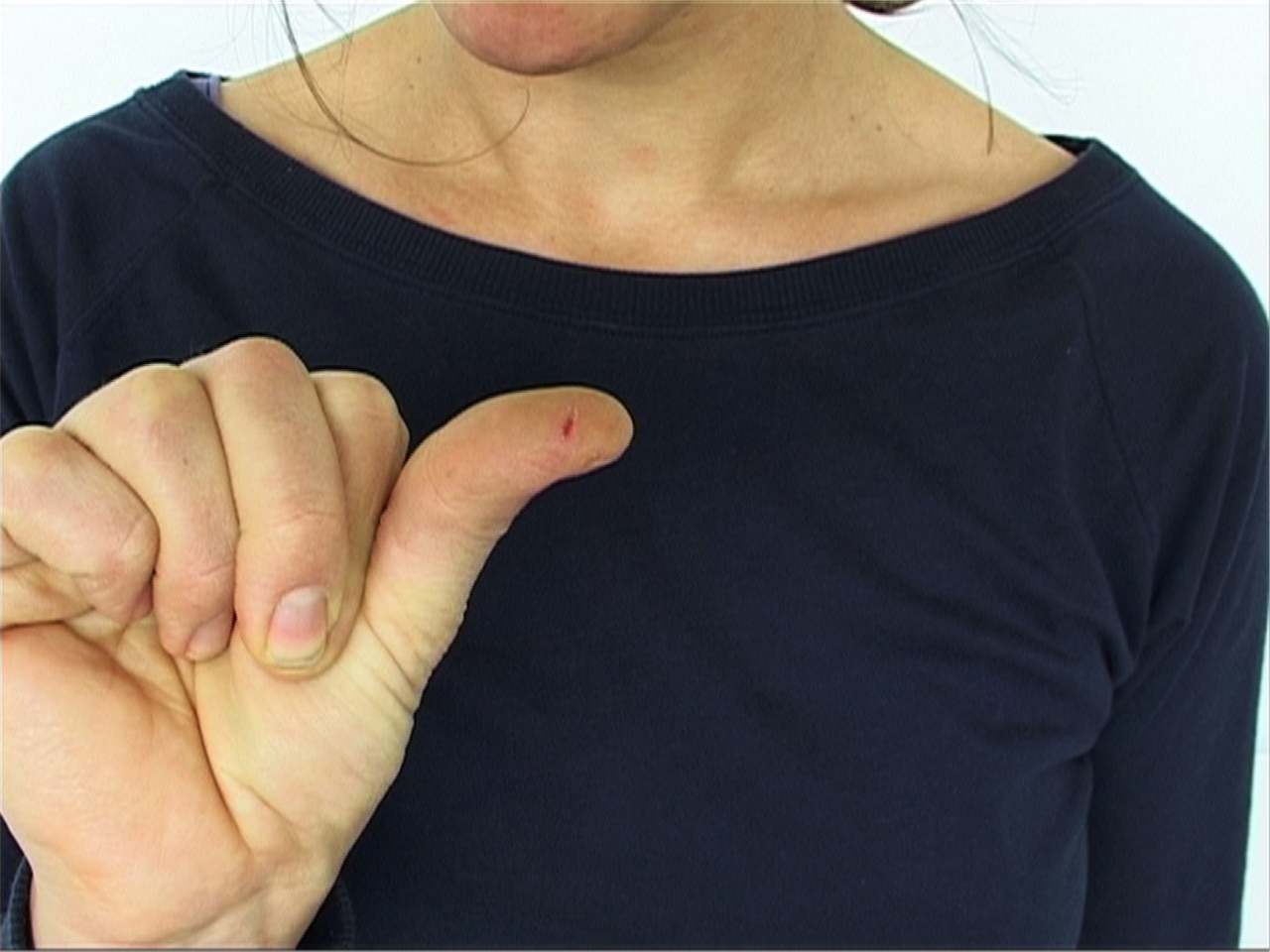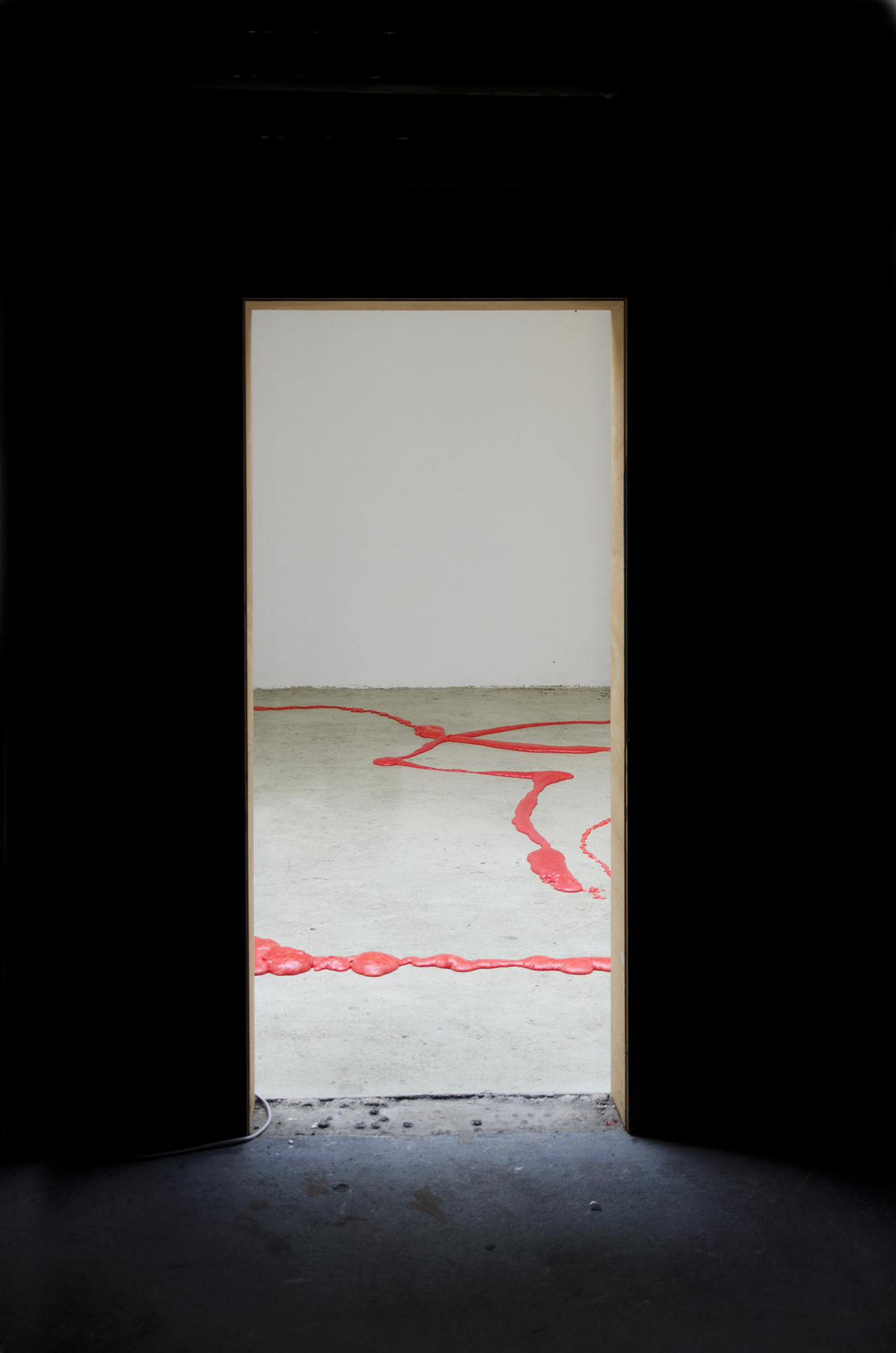 A performance, an installation with PU foam, a laptop playing a video-loop (0:35min.) and a live broadcast of studio talks. May 2015, Flatterschafft, Basel
The installation consisted of a trail, I poured out before with a red fluid. The fluid expanded up to thirty times (PU foam). The trail was laid from the studio at the second floor down to the showroom in the ground floor. Before the performance at the opening, the showroom was empty. The trail was made in the presence of the visitors. Beside the spacious show room was a small dark room. On the floor, in the middle of the dark, was a laptop, which screened a video loop (0:35min.) The video showed the upper body of a person, who is showing her thump with its healing lesion. Declared part of the installation where the studio talks. They where recorded and transferred directly to the showroom. Thus people in the showroom where able to listen to the talks in the studio. I invited artists to exchange about contemporary art production and about the act of drawing.
———————————————————————————————————-
Medienübergreifende Installation mit Performance und Live-Übertragung von Ateliergesprächen, Mai 2015 in der Flatterschafft in Basel.
Die Installation
Eine Spur aus rot gefärbtem PU-Schaum führte vom Atelier im 2. Stock bis in den Ausstellungsraum im Erdgeschoss. Dort füllte die Spur den Raum aus. Im Atelier befand sich ein Aufnahmegrät. Die Gespräche und Geräusche wurden aus dem Atelier direkt in den Ausstellungsraum über einen Lautsprecher übertragen. Es gibt einen dunklen Nebenraum des Ausstellungsraumes. Dort stand ein Laptop, der den Oberkörper eines Menschen zeigt, der seinen verheilenden Daumenschnitt betrachtet.
Die Performance
Die Spur wurde zur Eröffnung der Ausstellung vor dem Publikum angelegt.
Mit Hilfe der KünstlerInnen Flurina Badel und Jérémie Sarbach wurde eine rote Flüssigkeit zubereitet und von mir auf dem Boden vergossen. Sie expandierte innerhalb zweier Minuten um das 30-fache und härtete danach aus.
Ateliergespräche
Teil der Installation waren auch die Künstlergespräche im Atelier.
An zwei Abenden fanden KünstlerInnen im Atelier zusammen, um sich über Themen der Gegenwartskunst auszutauschen.
Die Gespräche sollten sich frei entwickeln in Form eines Gedankenaustauschs, wie sie oft ungeplant in Ateliers stattfinden können. Besucher konnten sich daran beteiligen, sie konnten aber auch die akustische Direktübertragung in der Ausstellung, zwei Stockwerke weiter unten, hören.
Über Kunstproduktion und die Strukturen der Kunstszene heute unterhielten sich neben zahlreichen unangekündigten BesucherInnen und KünstlerInnen die eingeladenen KünstlerInnen:
Alexandra Meyer –  Jso Maeder –  Muda Mathis – Mimi von Moos
Zu einem Gedankenaustausch über das Zeichnen waren die eingeladenen Teilnehmer:
Maja Rieder – Marion Ritzmann – Nicolas Kerksieck – Nara Pfister – Mimi von Moos